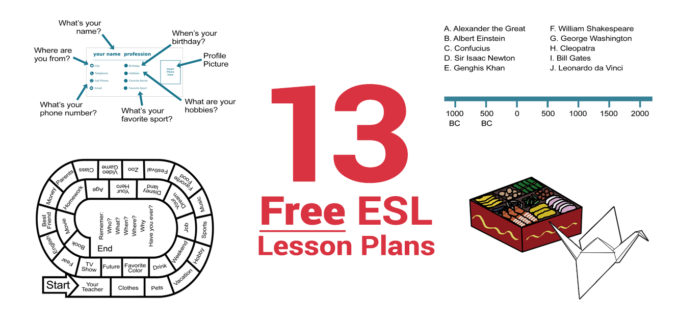 13 Free ESL Lesson Plans to Help Your Students Learn English
We've all been there. Standing in the front of your class with nothing. Completely empty-handed.
If you're teaching English abroad, you'll need ESL lesson plans to keep your students confident in learning English.
The secret is knowing where, exactly, to find that English teaching playbook. That's where we have you covered. 🙂 These 13 free ESL lesson plans will help you master your ESL classes.
And if you'd like more free ESL worksheets, don't forget to check out our other free activities to engage your students in English.
The best part? All are free and can be used for any purpose.
The Key to ESL Lesson Plans
Your goal as an ESL teacher is to boost student speaking time, while cutting down on your own talking time. But how exactly do you do that?
The key is to keep your students engaged with actionable, fast-paced activities in your ESL lesson plans. Alternatively, if you teach adults, these ESL conversation topics are appropriate.
As students go through the 5 predictable stages of second language acquisition, these ESL lesson plans mix how students can learn English. For example, they include group, mixer and open classroom ESL activities. While some think it's a bad habit to 'repeat after the teacher', this is how your students can focus on their pronunciation. These ESL lesson plans will include these types of drills as well.
They also try to engage the four different types of learners – visual, auditory, reading/writing, and kinesthetic. Mixer style activities help kinesthetic learners do by hand-on experience, while the others are quite self-explanatory.
If you're going to teach English in Japan (or anywhere!), it's time to put these powerful strategies into practice.
ESL Lesson Plan 1. Expectations, Rules, Handouts, Discipline
ESL Lesson Plan 2. Making Questions
ESL Lesson Plan 3. Everyday English
ESL Lesson Plan 4. Get Emotional
ESL Lesson Plan 5. Get a Job
ESL Lesson Plan 6. Show Me the Way
ESL Lesson Plan 7. Powerful Pronunciation
ESL Lesson Plan 8. Rhyme Time
ESL Lesson Plan 9. Catchy Commercials
ESL Lesson Plan 10. Culture Shocked
ESL Lesson Plan 11. Holidays
ESL Lesson Plan 12. Celebrity Status
ESL Lesson Plan 13. Open Mic
ESL Lesson Plan 1

Expectations, Rules, Handouts, Discipline

Let's be honest.

Your first class is not what you'll expect.

Your students will be shy. They'll be uncomfortable. And they probably don't want to be there.

Or who know? Maybe, they'll give you a hard time and act up the entire class. Both are realistic possibilities.

Our advice: You're wise to keep things simple. Keep a positive atmosphere. And make them feel comfortable using the Rassias method.

It's your chance to help your students feel relaxed in learning English. Tell your students what you expect from them throughout the year. Establish rules for your class like 'mistakes are ok', 'listen and be quiet' and to 'ask questions any time'.
ESL Lesson Plan 2

Culture Shocked

One of the best parts of teaching English abroad is the culture exchange. Let's not forget that culture exchange is two ways. Not only do your students learn about your culture, but you can learn about theirs.

At the start of this ESL lesson plan, exchange a business cards and shake hands with students when they enter your class. Maybe, it's custom to bow in their culture, so this might catch them off guard a bit.

Depending on where you are teaching, your students may not have spoken to a lot of foreigners. Your students are curious about you. And rightfully so.

Do you have any pets? Did you grow up in a house? What are your hobbies? When you include pictures, they will be fascinated in you.

Furthermore, when you open yourself up to them, they are more likely to return the favor. Include quirky things about your life but keep them comfortable in your ESL lesson plans.
ESL Lesson Plan 3

Making Questions

It's said that through repetition, learners can truly develop a skill that is a stored routine.

Learning English is no different.

Greet students at the door and show them something culturally significant. If you're Australian, bring a didgeridoo. Canadians can bring a hockey stick. Anything!

In these ESL lesson plans, your students will gain the practice they need to ask questions and increase their confidence in learning English.

And asking questions doesn't stop here. Encourage your students to keep asking questions in all your ESL lesson plans, as others probably have the same question that you have.
ESL Lesson Plan 4

Powerful Pronunciation

Your greatest asset as an ESL teacher is your pronunciation. Without a doubt, this is the one skill you can bring to your classroom that your co-workers secretly idolize.

In this lesson, you get surgical on how to pronounce the various sounds of English. And depending on which country you teach in, some of these sounds can be very foreign to them.

For example, when you place your tongue between your teeth to make the /th/ sound, they might need a bit of practice to get this right.

That's why you practice the sounds of English at an extreme level. In this free ESL lesson plan, we give you interesting ways to challenge and improve your students pronunciation.
ESL Lesson Plan 5

Rhyme Time

Your students are poets and they don't even know it. This ESL lesson plan puts pronunciation into action. Students can level up their skills with these fail-proof rhyme activity sheets.

To the average English speaker, rhyme doesn't sound too complicated. But in reality, it's a foreign concept for ESL learners.

Although students can be hesitant to speak openly, ask about their culture and if they use rhymes. Ask questions. Do singers rhyme? Are there rhymes in poems?

Overall, rhymes compliments pronunciation quite well. We enjoyed putting this ESL lesson plan together and hope you do too.
ESL Lesson Plan 6

Get Emotional

Students always find it hard to express themselves with emotions. Instead of saying the usual emotions like 'sad' and 'happy', this lesson truly explores our emotions.

As an English teacher, you will be showing various emotions in the classroom. Using facial expressions and gestures is a means of communication everyone understands no matter where you are from.

Your mood state will often change in the classroom, and your students should learn each feeling you share.

After these ESL lesson plans, your students should now be able to put a word to each emotion.
ESL Lesson Plan 7

Everyday English

If your students are interested in pop culture, they're going to hear a lot of slang and casual English. Further to this, ESL textbooks often teach only basic English.

For these reasons, you can teach them some casual English terms to help them go beyond the basics.

Take things a step further:

Manga is extremely popular in a lot of Asian culture. In the last activity, students fill in these bubbles creating their own story. The students can get quite creative following these ESL lesson plans.
ESL Lesson Plan 8

Get a Job

It's not easy picking a career. Honestly, some people never find their career path. But when you find something you love doing, it's almost as if you're not working at all.

This ESL lesson plan explores your students career interests. What job do they want to do after they graduate?

Talk about potential career paths.

Taking it to the next level is actually preparing for a job interview and landing that job. These ESL lesson plans should get your students thinking.
ESL Lesson Plan 9

Directions & Travel

As English becomes the universal language of communication, traveling becomes much easier when you speak English.

And if there's one skill you oughta learn before you travel abroad, it has to be asking directions.

How many times have you need directions to get somewhere?

These activities are meant to broaden student's minds when they start travelling abroad.
ESL Lesson Plan 10

Who, When, Where and What

We continue to master the art of asking questions. These enjoyable activities lighten the mood practicing all these types of questions.

Throughout these ESL lesson plans, encourage your students to keep asking questions, as others probably have the same question that you have.

Harness the power of asking questions.

This recurring theme will pay off big in the future.
ESL Lesson Plan 11

Celebrity Status

How awesome would it be to be a celebrity for a day? Well, now students can get celebrity status with these ESL activities.

Shine the spotlight on them with a celebrity-style interview.

The challenging 'No Subtitles' activity has your students lip-sync with a film of your choice. Just say anything! Creativity is important.

By far, this is the most challenging of all ESL lesson plans so far.
ESL Lesson Plan 12

Merry Christmas

It's time to expose students to Christmas, a time of joy, curiosity, anticipation, love and trust.

To get your students in the spirit of Christmas, let them decide what they would buy for you…

Most importantly, why would they pick that Christmas present?

This wide range of activities boosts vocabulary, practices spelling and exchanges culture.
ESL Lesson Plan 13

The Big Question

It's the Hail Mary to spark conversation on class.

In order to sharpen their English skills further, students put their thinking caps on and truly converse in English.

The centerpiece in this ESL lesson is '101 conversation topics'. There are enough challenging questions in here to keep them speaking for days.

Practice makes perfect.
Now, it's your turn
Are you new to teaching English abroad? Or are you thinking about going to teach English in Korea or China?
Are you in need of ESL lesson plans to succeed as an ESL teacher?
These ESL lesson plans will transform your repertoire into a teaching empire.
Any questions? Let me know with a comment below.