Should I Teach English in China as an English Teacher?
Have you ever wanted to teach English in China?
Most TEFL jobs in the world exist in China. As you're about to find out, there is quite a big market to teach English in China.
Further to this, the pay is fantastic (and increasing) and the cost of living is cheap.
This means that China is quickly becoming one of the most desirable locations for TEFL teachers.
We show you step-by-step how to start teaching English in China.
Pro tips on how to get an ESL job in China
China is hiring the most TEFL teachers than anywhere else in the world. Out of all TEFL locations, it accounts for an unbelievable 39% of the international market.
This is huge.
So how do you get a job to teach English in China?
Although sometimes recruiters can get a negative reputation, they can also be a good source to pair you up with a school. TEFL jobs in China are usually by tutoring or teaching in an academy, public school, from kindergarten to university.
Before you accept an offer, ask questions about the job and plenty of them. Are there foreign teachers working there now? Generally, the more foreign ESL teachers, the more financially stable it is. Read more on this in our pro tips section below.
Demand is high now in China to learn English. This makes it easier to get hired in China than anywhere else in the world. But this means that China is still relatively new at TEFL teacher acquisition and still ironing out the kinks.
How much money can you make when to teach English in China?
You might be surprised to learn that China has one of the higher average TEFL teacher salaries.
The average salary in China is about 12,000 RMB monthly. When you convert this to US currency, it's a little less than 2000 USD per month.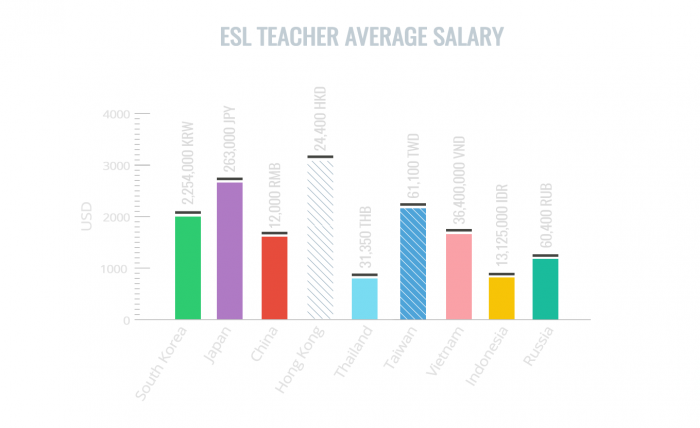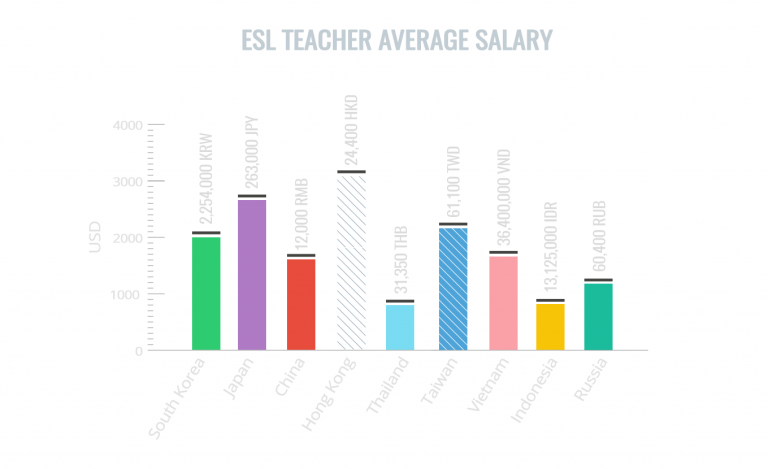 All things considered, the pay is fantastic for the work that you are doing.
The cost of living is far cheaper than if you wanted to teach English in Japan or Hong Kong, where you can pay 1000 this salary just for your accommodation.
All in all, ESL teachers' salaries are on the rise in China. This is a good thing for people considering China as a place to save money.
Practical Life Pro Tips
First, where do you want to live in China? For example, are you going to be bored living in a village? If this describes you, then consider living in an urban city.
Second, you need a very open mind and try to read up on culture shock. China doesn't have the same standard of law and order, political correctness, racial/gender equality, or individualism as many Western countries do.
Third, pick up Mandarin language basics before you​ go. At the very least, learn some of the key phrases. The average person can't speak English, making your Chinese phrasebook your new best friend.
Don't forget it's you who has the negotiating power. You will be the centerpiece for your school. You bring a lot to the table. Negotiate for better living accommodation, a better TEFL teacher salary or even more vacation because typically you get less than 10 days a year.
You need a work visa and be invited by a Chinese company. You get your visa before even entering China. It's illegal to work with a tourist visa.
If your school doesn't have any ESL lesson plans prepared for you, our free ESL worksheets and ESL games can give you the jumpstart you need.
Street Smarts Life Pro Tips
As for life pro tips, there are too many to list:
You always want a referral before you accept a job. Talk to someone who has been in your position that you are applying for. Talk directly to them. No agencies, or middle-men.
Isn't this trusting a complete stranger? Absolutely.
But their advice is invaluable. And any advice is better than no advice. Speak to multiple teachers before accepting any offer to help you sleep better before your journey to China.
You can save yourself from a world of misery with a simple search online. Find tell-tale signs the school is reputable. One hour of research can save you from a year of headaches.
Honestly, extreme shadiness is everywhere in teaching English abroad. China has the worst reputation for it, but I personally witnessed it worst for English teachers in Korea.
Large corporate schools and public schools are the safest, and schools with low entry requirements are the least safe.
Should you get ESL certified before to go to China?
Out of all ESL countries, China prefers or requires TEFL certification the most. 64% of job postings stated they prefer or require candidates to have ESL certification.
In these TEFL job postings, CELTA, DELTA, TEFL and TESOL certification types were highest. Percentages don't equal 100% because one job offer often accepted multiple ESL certification types
But you can see how TEFL certification is most sought after at about 57%. After that, TESOL and CELTA which helps prepare ESL teachers for even ESL conversation classes.
But take this with a grain of salt as all ESL certification can give to that boost to need to get a higher pay job. After all, it helps to become a better ESL teacher which what really counts.
Thinking about taking the plunge into China?
It's a remarkable country to live in, with a ridiculously interesting culture and history.
People come back with some pretty awesome stories and find it enriching. On the other hand, there are others like Karl Pilkington from Idiot Abroad who think the opposite.
I personally loved China. Are you thinking about going to teach English in China? Or what were your experience and review if you're just returning?
Let me know with a comment below.