10 Reasons To Teach English Abroad as an English Teacher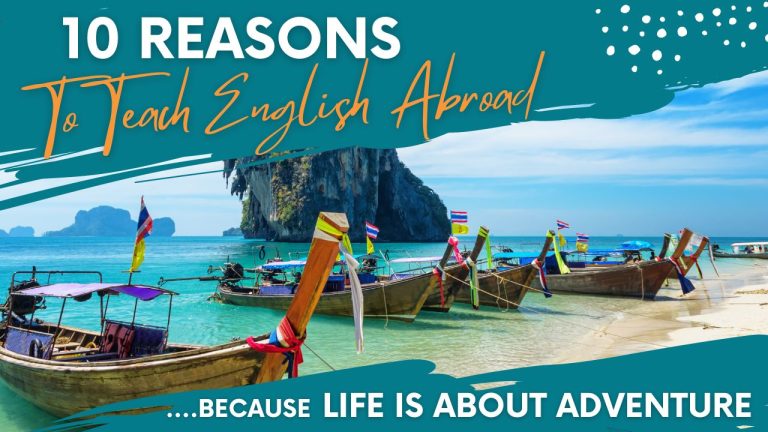 10 Reasons To Teach English Abroad as an English Teacher
Traveling is great.
Making some extra money is great.
But when you can do BOTH?!?
When you become a TEFL teacher abroad, you can travel the world and earn a decent TEFL teacher salary while you're doing it.
How great is that?!
But it's not just about the money and travel. Here are more reasons why you should teach English abroad.
1. Enrich your life
What is your biggest motivation to teach English abroad?
Like I said before, it's not about the money. Or it's not about travel. It's about the positive, life-enriching experience you get from it.
Teaching English abroad not only opens a new life chapter but it has the power to transform your perspective on people, culture, and way of life. For most people, it's in a positive way.
It's like a real choose-your-own-adventure novel. You're the main character. And there are so many routes you can take.
2. Travel anywhere easily
Oh, that wonderful longing when you're setting off on a well-deserved vacation. If you're from North America in Asia, you'll learn quickly that it's about 10 times easier to travel. The transportation system is fluid in that you can go from A to B with ease.
Asia is all relatively close together making it a hub for travel. You can maximize the number of visits collecting passport stamps like it's going out of style. That's just how countries are dispersed geographically in Asia.
And if you're asking… When you teach English abroad, there are a ton of holidays to hoist the anchor and set sail. But it's good to ask your school just how many you get before you go.
3. Earn teaching experience
When you teach English abroad, you gain teaching experience to thrive back in your home country. Further to this, you can master time management, create amazing ESL lesson plans and hopefully obtain a passion for teaching. Teaching is a bit of a struggle to achieve complete success, but it's all worth it in the end.
Check out our 100+ free ESL worksheets to use in your online classes today
Not all things are created equal when you teach in two separate countries. For example, disciplining students is often completely different. The curriculum sometimes is nonexistent. These two facts combined make it challenging to gauge your success as a teacher. But these ESL worksheets and ESL games can help give you a quick start.
Although some countries won't acknowledge teaching English abroad as proper teaching experience (such as offering a higher starting salary), it still helps get your foot in the door. And teachers always need teaching experience under their belt to add to their resume/CV.
4. Save a lot of money
Someone, somewhere told you to teach English abroad because you can save a lot of money.
This is true.
But if your sole purpose to teach English abroad is to earn money… you're in for a rough time.
Don't get me wrong. TEFL teachers' salaries are quite high, but your whole driver shouldn't be about the money.
If you're lucky, you can land some high-paying jobs and save serious money.
Top 3 TEFL Countries
5. Get culture shocked
Instead of being terrified of cultural differences, think of culture shock as something you can embrace.
Break the mold. Open doors to new places, people, and cultures. Survive unfamiliarity and get out of your comfort zone.
When you get out of your happy place, you suddenly open up to try new things that you wouldn't have before.
You build a real-life experience. You're no longer a weak-willed traveler. It's you who sits in the driver's seat. And it's you who has control.
6. Spend little with a low cost of living
If you want to teach English in China, schools often pay entirely for your accommodation. With this said, don't imagine you'll live in luxury. You may even have a cockroach or two in your apartment, and that's fine.
In general, TEFL teachers enjoy a low cost of living when they teach English abroad. While Thailand's transportation costs are ridiculously cheap, living and teaching English in Japan can be expensive. But you have a bigger base salary to compensate you.
Outdoor vendors sell food for cheap. All in all, food is cheaper abroad. But be careful where you eat for your health. All things considered, you're living quite reasonably when you teach English abroad. It's like you have it made in the shade.
7. Make friends all over the world
How awesome would it be that no matter where you went in the world, you knew someone there? On top of that, you have a place to stay.
Meeting someone when you teach English abroad is 10 times different from travelers you meet on a trip. This is because you are sharing the same life experience as them. You're in the same shoes as all the same life challenges.
Every city, town, and village has a local bar where TEFL teachers hang out. This is where you're likely to meet your global friends.
With similar emotions and even a feeling of loneliness, this bonds your friendship even stronger. And a friend in need is a friend indeed.
8. Enjoy the finest cuisine
Travel across the world for the finest sushi on the planet. People will tell you that you are out of your mind! A surefire way to enjoy the cuisine you love most is to live in a country that cooks it.
If you love the taste of sushi, imagine living in the land of the rising sun. Japan's fish markets have the best sushi on the planet. Eat your favorite drool-worthy cuisine every day. There's something that sounds satisfying about that, doesn't it?
If you are craving spice, teaching English in Korea is your TEFL destination. Not only are their jalapeno peppers fiery hot, but they'll give you tens of these dishes each meal. When you're there, taste their BBQ pork with a side of kimchi.
9. Master Another Language
That warm fuzzy feeling you get from learning another language… With your handy phrasebook, it's time to break out a couple of one-liners with the locals. After a bit of practice, you'll get rid of the phrasebook entirely and you're ready to spark up a conversation.
Challenge yourself and always upgrade your language skills to the next level. Because there's really nothing more powerful than being able to tell people exactly what you need in any ESL country you choose.
Also, carving out a new set of foreign characters for your repertoire is pretty neat too. If there's one thing you could take home with you, it should be a whole new language.
10. You have interesting stories to tell your kids
All of a sudden, you've become the most interesting person at the dinner table. You've got a whole list of stories to tell. It's all about the new people you've met. Exciting places you've been. And the things you've seen.
But some people might tell you, "Now, what are you going to do when you're back home?" as if it was non-productive time spent teaching English abroad. Try to avoid any negativity when you return. How you respond is up to you.
But you can think this way: Do employers not consider the experience in a foreign country valuable? Of course, they do. In this situation, actions are stronger than words. When I came back from teaching English abroad, it took some time. But I now work at one of the top employers in my country.
When you teach English abroad, it's time well-spent because of the enriched life you gain (read #1). And if you really wanted to, you can upgrade some of your skills through online courses. Life couldn't be any better. Except for deciding where to go next?
What did we miss?
The reality is teaching English abroad is a major life change. But it's a good one! Your classes will be challenging to keep students engaged.
Looking to enroll in a TEFL course? Check out our list of the best 15 TEFL courses
That's why TEFL certification can help overcome these challenges. For example, TESOL certification and CELTA certification will make you most prepared for your first day of class.
Your decision to teach English abroad shouldn't be made lightly. Don't make it in a day or certainly after reading this list.
What are your priorities in life? Write a list of pros and cons. Weigh them all in and decide. Personally, teaching English abroad was the best decision of my life.
Our Top 3 TEFL Courses