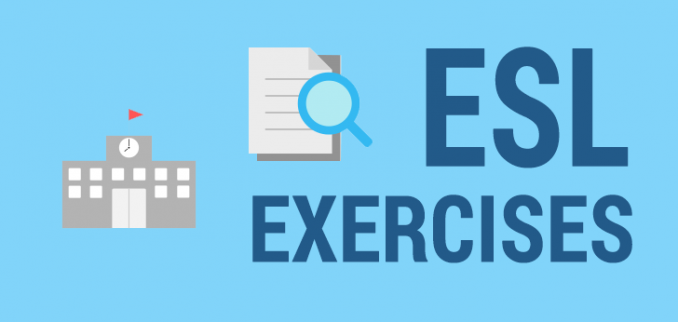 15 Epic ESL Exercises for English Education
These ESL exercises are a controlled way to practice a particular language aspect.
For example, we focus on the parts of speech which include nouns, pronouns, adjectives, verbs, adverbs, prepositions and more.
Because when students learn from guided ESL exercises, it can truly resonate in memory with a sense of precision and accomplishment.
Ready to get started? And don't forget that all our worksheets are 100% free to use in your classroom today.
1

Countable Nouns vs Uncountable Nouns
2

Daily Routines – Present Verb Tense
3

Prepositions of Location
4

Adverbs of Frequency
5

Emotions Vocabulary: Personality Adjectives
6

Singular and Plural Nouns
7

Action and Helping Verbs
7

Irregular Past Tense Verbs
8

Opposite Adjectives: Find the 2 Opposites
9

Comparative Adjectives Worksheet
10

Compound Words: The Matching Game
11

Minimal Pairs: Pronunciation Pyramid
12

Picture Rhymes Worksheet
13

Compound Nouns in Pictures
14

Common and Proper Nouns Worksheet
15

Irregular Plural Nouns Worksheet
It's Time to Shine
These ESL exercises have structure and teach a particular aspect in language learning.
Because when you guide students with these ESL exercises, all the pieces of the teaching puzzle start fitting together.
And students go from just good towards greatness.
Which ESL activities do you like most in this list. Please let me know with a comment below.