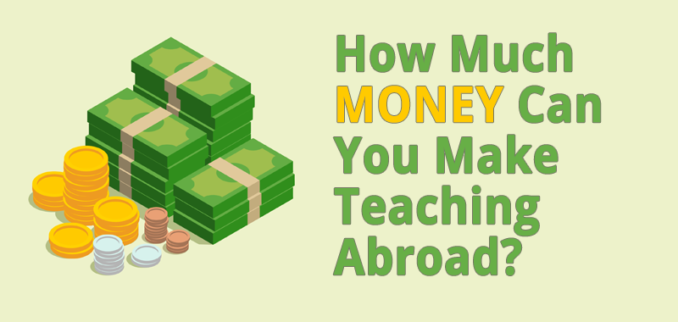 ESL Teacher Salary by Country
Money should never be your motivation to teach English abroad.
But if you want to earn a solid income teaching English abroad, there's a couple of places you can go.
We studied some off the biggest international ESL destinations in Asia to find out who pays you the most.
Here is a summary of what we discovered for ESL teacher salary:
Hong Kong outranks all countries for salary
Out of 13,000 job postings, your biggest money-making ESL destination is Hong Kong at about 24,400 HKD (3140 USD) per month.
If you want to teach English in Japan, it is a close second with an average salary of 263,000 yen (2400 USD), which is about 23% less than Hong Kong. Teaching English in South Korea can rake in about 2,254,000 KRW and Taiwan at 61,000 TWD, where you can earn about 2000 USD per month.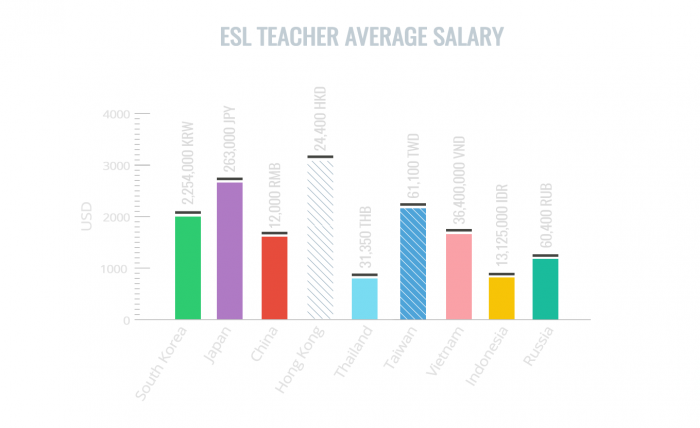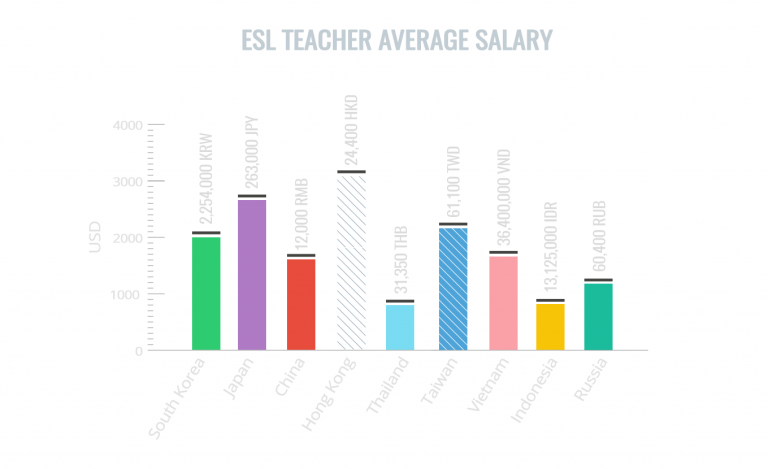 Of course, all of this depends on a fluctuating currency rate. But what was consistent was how these high paying countries are very likely will pay for your housing costs. This is huge when living abroad for ESL jobs.
Out of the countries we studied, the lowest paying countries are India, Indonesia and Thailand, where the average ESL teacher salary is less than 1000 USD per month. But we can't forget how much we're actually paying to live in these foreign countries.
Hong Kong is still highest incorporating cost of living
Numbeo conducts a study every year that compares the cost of living of countries around the world. Values are relative to New York with the metropolis marked at a perfect 100.
Using this index which includes rents, Hong Kong is pegged at 81.9. However, Japan is significantly cheaper than Hong Kong at 57.6. Everyone associates Japan as expensive, but let's not forget that it's been in a period of deflation (prices are not increasing) for as long as I can remember.
Even if you exclude rents and only count transportation, groceries and standard living costs – Hong Kong still reigns supreme.
Now, let's take this one with a grain of salt… Because in reality, it depends on what your school will provide you, such as accommodation, airfare and severance pay. Furthermore, it depends if you're living in an urban or rural area.
Every situation is different. This can't be more true, when you teach English abroad as there are sometimes too many variable to account for.
China has the most ESL job postings in the world
If you have your heart set on Hong Kong or even Singapore, you might be heartbroken to realize that they have less job opportunities than other ESL destinations. Both of these ESL locations represent less than 5% of ESL job positions.
So which countries have most job opportunities?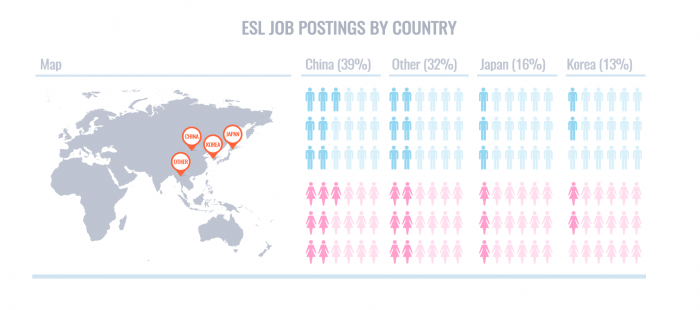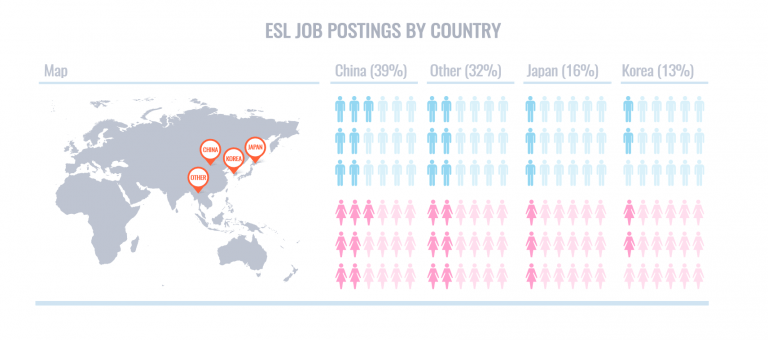 If you are considering teaching English in China, it is the international hot spot for ESL in 2017 accounting for a ridiculous 39% of all job opportunities. While Japan sits pretty firm at 16% of ESL job opportunities, South Korea is next in line at 13%, despite a smaller population.
If you can't land a job in Hong Kong, there are plenty of other ESL jobs which offer you a good wage. Don't forget how ESL certification can also help you gain an advantage for ESL jobs around the world.
Which countries pay ESL teachers most?
Knowing all of this, does it make you think a bit more where you want to teach English abroad?
Or should anyone even consider teaching English abroad just for the money?
What do you think?
Let me know with a comment below.