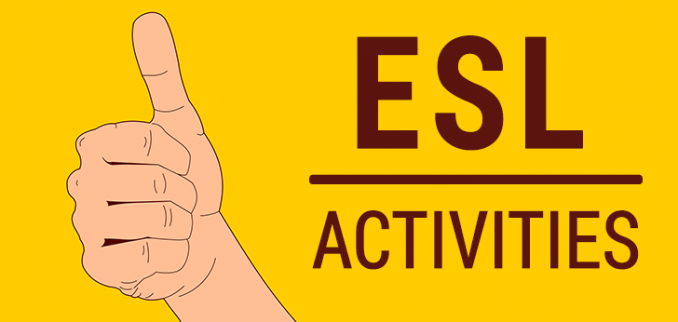 17 Essential ESL Activities that are Fun, Relevant and Engaging
Fun, relevant and engaging ESL activities are the nitrous of every successful lesson. Through hundreds of successful ESL classes, we know what does and does NOT work.
ESL exercises are a controlled way to practice a particular language aspect. Instead ESL activities engage in discussion and communication focused on a goal.
For example, you can cut our ESL discussion topics into bite-size papers and have them communicate in pairs. And this is just 1 of 17 ideas waiting for you to build these ESL activities into your classes and to perfection,
Ready to get started? Let's jump in.
1

101 ESL Discussion Topics: Free-Talking
2

Reverse Jeopardy: Formulating Questions
3

Lost in Kansas: Asking for Directions
4

Let Me Introduce Myself: Self-Introductions
5

Timeless Timelines: History Exploration
6

Einstein's Riddle: Detective-Style Logic Activity
7

Cultural Dictionary: The Culture Exchange ESL Activity
8

Group Charades: Action Verbs
9

The Classroom Movie: Dialogue Practice
10

Your Dream Job: Job Interview Practice
11

Multi-purpose Items: Informative/Explanatory Writing
12

Rhyme Time: Activity Sheet
12

Simon Says: Imperatives
13

Pushy Salesperson: Advertisement Ideas
14

Pass the Ball: Vocabulary Brainstorming
15

Pronunciation Game: Minimal Pairs Pyramid
16

Tongue Twisters: Pronunciation Practice
17

Talktastic: The Free-Talking ESL Board Game
17 Essential ESL Activities that are Fun, Relevant and Engaging
Engaging ESL activities are one of the most essential elements of teaching an effective lesson.
These ESL activities aim at boosting awareness and increasing English as a Second Language in an effortless, fun sort of way.
Are you ready to take action? These ESL activities are all free to download and print to teach with in your class today.
Let me know what you think with a comment below.