TEFL Thailand – 3 Ways To Get an English Teaching Job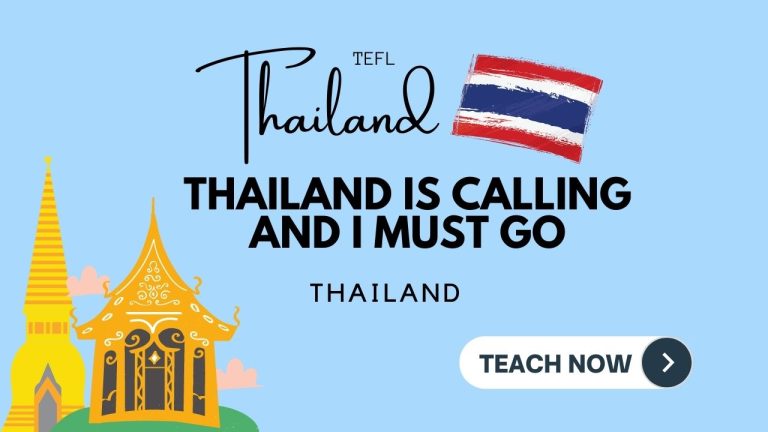 3 Ways To Get an English Teaching Job in Thailand
Although Thailand is one of the most popular destinations for people looking to teach English as a foreign language, it's not always easy to get there and start teaching.
If you're interested in teaching English in Thailand, here are some of the most common ways to English teaching jobs in Thailand:
Today, we'll take a closer look at each of these opportunities for teaching English as a foreign language in Thailand (TEFL Thailand).
Job Support from a TEFL Provider
A TEFL certificate is the standard English teaching certificate that trains you to deliver effective English lessons to foreign students. But a lesser-known fact is that many TEFL providers offer lifetime job support for countries like Thailand for their graduates.
Looking to enroll in a TEFL course? Check out our list of the best 15 TEFL courses
Many of these providers have contacts with Thai schools and other organizations in Thailand that are looking to hire English teachers, and can provide guidance and support throughout the job application process.
Not only do you gain the right qualifications with a TEFL certificate, but you also get an English teaching job in Thailand when you're finished. No matter where you want to teach and travel, a TEFL provider has the right contacts to get you there. Here are the TEFL courses we like for their job support.
Our Top 3 Picks
TEFL Paid Internships
This option is similar but different. Instead of taking a TEFL course in your home country, a paid TEFL internship means you'll complete the TEFL program in another country.
The biggest benefits of doing a TEFL internship in Thailand include:
Almost everyone overlooks paid TEFL internships but you shouldn't. This is because they can save you all the hassle of setting up a visa, accommodation, and more.
But the main advantage is that you earn a normal salary that helps cover living expenses. This way, you can focus on your TEFL internship and not worry about how you're going to make ends meet.
Networking and job connections
The most common way to get an English teaching job in Thailand is through networking and making connections. Overall, it's not that difficult to find jobs through online job boards and teaching recruitment agencies.
In addition to online job boards, there are also government and volunteering options including the programs below.
No matter which English teaching job in Thailand you pick, be sure to do your research. Ask plenty of questions before committing to any type of job in Thailand so that you know what to expect and can be sure that it's the right decision for you.
How much can you make teaching English in Thailand?
Teaching English in Thailand provides an excellent opportunity to live in a beautiful country while making a steady income.
The average monthly salary for an English teacher in Thailand is between 25,000 to 40,000 Thai Baht, or around $650 to $1,300. Bangkok has the highest-paying jobs, while the South and East of Thailand pay the lowest.
The cost of living in Thailand is low, so your salary will go a long way. You will have enough money to travel, eat well, and save money.
What's the job market like for English Teachers in Thailand?
The job market for English teachers in Thailand is good, but it is also very competitive. There are a lot of people who want to work as English teachers in Thailand.
Check out our 100+ free ESL worksheets to use in your online classes today
You will find more opportunities in Bangkok and Chiang Mai, but there are also jobs in the southern provinces. You will find more English teaching jobs in Thailand during the high season, but it's possible to find opportunities throughout the year.
Schools hire English teachers all year round, but the demand for teachers is higher during the high season. You can also find jobs during the low season, but the competition is higher, and you might have to find a job in a smaller city.
Things to Know about Teaching ESL in Thailand
Here are some of the key facts you have to know about teaching ESL in Thailand before you go:
TEFL Thailand
While these options for teaching English in Thailand can be an excellent way to gain experience and learn more about teaching English as a foreign language, it's important to make sure that you're prepared for the challenges that come with living and working in a foreign country.
If you have a TEFL certificate or a TESOL certificate, it's easier for you to find a job in Thailand. The best places to look for jobs are Bangkok, Chiang Mai, and the southern provinces.
Finally, you can also get a paid TEFL internship in Thailand. Keep in mind that you need to follow the education system in Thailand, and you need to have enough money to survive for a few months.