TEFL Full Circle: 39$ Worth of Garbage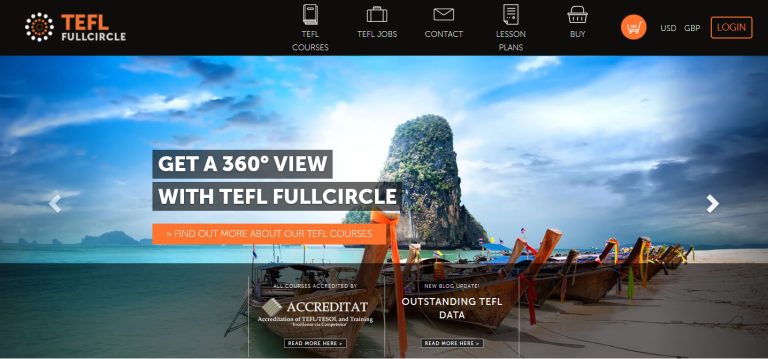 Is TEFL Full Circle a Scam?
There were red flags for TEFL Full Circle when you saw it on Groupon for 39$. After reading this, there should be signal fires.
Because the reality is that you get what you pay for. Specifically, it leaves you without any feeling of preparedness to teach abroad.
I can't promote TEFL Full Circle because I can't stand behind a certificate program that has no lasting benefits for the teacher.
But that's not all. Here are more reasons why you should avoid this 39$ Groupon TEFL course.
1. It's a wall of text
The entire course is reading. It's just chunks of text over and over again. Plus, when you read through the material, it looks outdated with cheap stock photos of smiling kids.
Looking to enroll in a TEFL course? Check out our list of the best 15 TEFL courses
Reading a wall of text doesn't prepare you to teach in the classroom. Because without any interaction, you can't measure your progress.
Instead, consider taking a reliable course like The TEFL Academy that gives you classroom teaching experience. You get constructive feedback from professional teachers on how to improve your lesson plans.
It doesn't prepare you 100% for teaching in a classroom. That comes with time. At least it gives you something to start with and see if you really want to become a TEFL teacher. Just check out this review of TEFL Full Circle to learn how useless it is.
2. It Leaves You Jobless
You get what you pay for when it comes to job opportunities from TEFL Full Circle. They will take your money and run with it.
But if you get TEFL certificate options like Premier TEFL provides you with job placement opportunities online or abroad.
Because this company not only cares about your experience as a student but also cares about your experience as a teacher. It's about you increasing your opportunities for higher-paying jobs.
Take a TEFL course that will pay off in the long run. Not just the cheapest one you find at the spur of the moment. Just check out our top 3 picks miles ahead of TEFL Full Circle.
Our Top 3 Picks
3. 120 Hours Is a Big Fat Lie
We always recommend 120 hours because it's the industry standard. Even though the TEFL Full Circle course says it's 120 hours, it really only takes about 12 hours to finish.
Check out our 100+ free ESL worksheets to use in your online classes today
The first thing you'll notice is that it's unfinished with core content missing from modules. Plus, the whole course is riddled with grammar mistakes.
This is not the type of thing to give you confidence while taking it. It's also difficult to navigate and bookmark where you last left off.
The alternative? If you can sign up for an in-person course, we recommend courses like ITTT and Premier TEFL over TEFL Full Circle.
Challenge Yourself. That's the Point, Right?
If you're not challenging yourself, you're not trying. The whole purpose of taking a course on anything is to challenge yourself.
It's not about check-marking a box that you're TEFL certified because some employers don't even recognize TEFL Full Circle certification.
I don't promote trash so this TEFL Full Circle review comes from my heart. Like all things in life, cheap items eventually end up costing you more.
If you need a legit TEFL certification program, then don't pick this 39$ Groupon TEFL certification.
Instead, check out our recommendations for TEFL certificate programs. Or even better, go with CELTA known for its quality and high standards.