7 Free Food Coloring Pages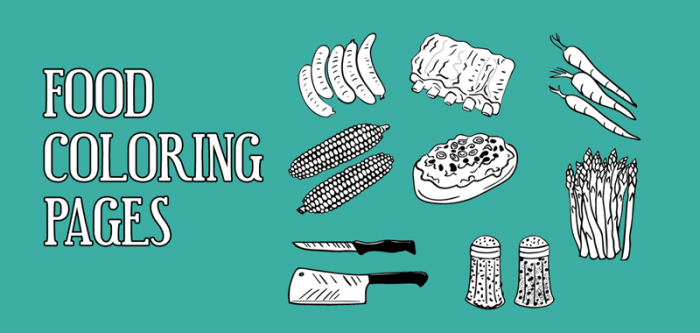 Food Coloring Sheets
Print out these food coloring sheets for your class or children.
It features a nice color arrangement of popular vegetables like carrots, asparagus, and corn.
These are all free printable worksheets and can be used for any purpose.
If you want more, take a look below.
1. Carrots Coloring Page
Bugs Bunny was a big fan of carrots. But they're actually not that healthy for rabbits. For us though, it's filled with beta carotene and other vitamins.
So color these carrots orange. Or if you want to go back several centuries ago, color them yellow, white, or purple.
2. Corn Coloring Page
This tasty vegetable should get the color yellow. If you want to go peaches and cream, you can alternate with the color white.
Use these corn coloring sheets to create an easy fall decoration or to get your kids excited about eating corn.
3. Asparagus Coloring Page
Asparagus is often unpopular among children. Despite its shortfall, this green vegetable works great in omelets, stir-fry, or wrapped in bacon.
Kids can start using this ribs coloring page to practice their coloring skills and have fun at the same time. They can use any shade of color to color these ribs.
4. Ribs Coloring Page
I love my baby-back ribs. As we move from vegetables into the meat, this ribs coloring sheet should get a brown color. If it's undercooked, it should look pink or red.
This is a great activity for encouraging your child to explore and experiment with different colors, exploring their properties and how they look when combined with other colors.
5. Sausages Coloring Page
One of the best breakfast dishes, just behind bacon. Sausages have a pink tone to them. But they can also be light brown depending on the type of sausage it is.
This is a great activity to try with your child if they have ever wondered why potatoes come in different colors.
6. Baked Potato Coloring Page
Potatoes are high in nutrients are extremely healthy food. Baked potato gets some toppings like cheese, bacon, and sour cream. Yum!
7. Salt and Pepper Coloring Page
Last but not least, it's the seasoning for your food. Salt doesn't really get a color. But pepper is the color grey. Actually, it doesn't have to be one of these spices. Pick something interesting and color it however you want.
Food Coloring Sheets
We hope that you enjoy using these food coloring pages.
Kids love to color because it helps reduce anxiety and focus on the task at hand.
But there are studies that show it does the same for adults!
So print them off and pull out your box of crayons. Because you have some work to do 🙂