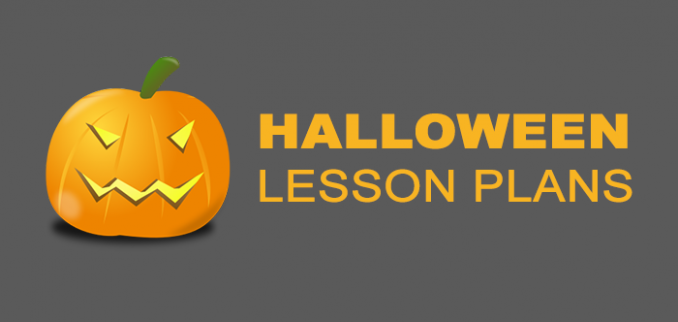 Halloween Worksheets
It's October, that means it's Halloween. And Halloween is always a fun time for kids and adults too. So you can take some of the fun with you for your classroom with these 7 Halloween worksheets.
You know:
Halloween has always been one of my favorite holidays… Kids dress up in costumes, yell "trick or treat" at neighbor's doors and they get a bucket full of candy.
But how did this tradition begin? And what is some of the common vocabulary that we use during Halloween? Here are 4 Halloween worksheets – frightful enough for your classroom.
1

What is Halloween?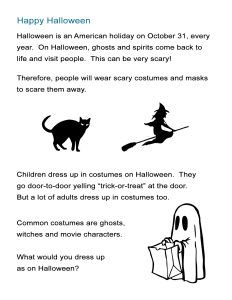 Halloween is an American holiday on October 31. On Halloween, ghosts and spirits come back to life and visit people. Based on this fact alone, this can be a very scary thought to children. So this is why we wear costumes and masks to try and scare the spirits away.
Children and adults dress up in costumes on Halloween. Next, they go door-to-door yelling "trick or treat". Finally, the put out a bag and get candy.
Common costumes are ghosts, witches and movie characters. If students could dress up for Halloween, what costume would they wear?
What is Halloween?
2

Halloween Bingo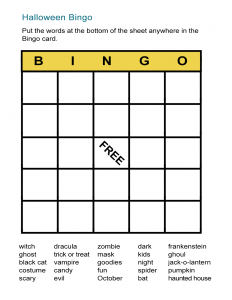 First, students write the Halloween vocabulary anywhere in the Bingo sheet. Next, the teacher reads each word in the sheet.
As students cross off the words they hear from the teacher, the first one who gets a line wins.
Bingo is always tons of fun, and it's a good way to learn Halloween vocabulary as well.
Halloween Bingo
3

Halloween Word Search Puzzle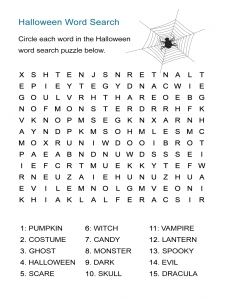 Word searches help students recognize patterns making it an excellent cognitive exercise.
In the theme of Halloween worksheets, this Halloween word search puzzle emphasizes the spooky vocabulary terms.
It's not only Halloween vocabulary, but students learn spelling by finding words in any direction.
Halloween Word Search Puzzle
4

Halloween Emotions
Halloween is a scary, yet fun time. However, these are two contradicting emotions that kids feel on October 31.
This means that there's no better way to teach them with emotional jack-o-lanterns.
In this Halloween activity, students draw a line from each Halloween vocabulary word to the correct pumpkin emotion.
Halloween Emotions
5

Halloween Maze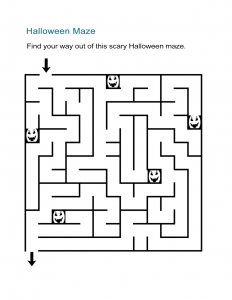 Can you find your way out of the maze?
Starting at the top, you have to make your way out of the maze.
But don't end up hitting any of the scary pumpkins. Because that's the wrong way!
Halloween Maze
6

Halloween Coloring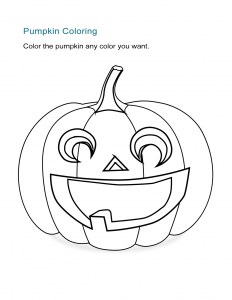 Coloring is always an excellent activity for very young children.
They can get creative for picking colors. Also, it's a great way to review colors.
Check how well students can color within the lines by using these 10 Halloween coloring sheets.
Halloween Coloring Sheets
7

Halloween Connect the Dots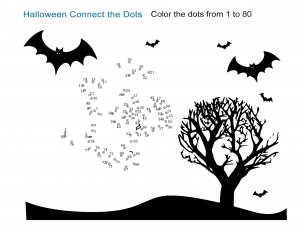 From 1 to 80, draw straight lines based on consecutive numbers.
As you connect the dots, it produces a picture resembling something related to Halloween.
Just what will it be? Find you by connecting the dots!
Halloween Connect the Dots
Halloween Lesson Plans
How will you celebrate Halloween? Will you go out trick-or-treating wearing a costume?
Although Halloween can be scary for young children, it can also be a lot of fun. Some of the most memorable moments in children's childhood comes from Halloween.
These 3 Halloween lesson plans teach Halloween vocabulary and how people celebrate.
What are some Halloween lesson plans that you use in your classroom?
All of our worksheets are free to use for any purpose and ready to print for your classroom.