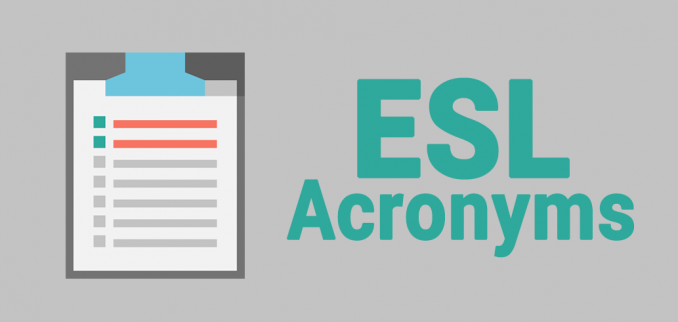 ALT (Assistant Language Teacher) – Language teachers often associated in the JET programme.
BICS (Basic Interpersonal Communication Skills) – Basic language skills needed to interact in social conversation like speaking in the telephone.
CALP (Cognitive Academic Language Proficiency) – Formal academic learning of language skills which includes listening, speaking, reading, and writing.
CELTA (Certificate of English Language Teaching to Adults) – Cambridge University program made up of in-class hours and a practicum. It's more recognized for teaching in Europe but is gaining recognition in Asia.
EAL (English as an Additional Language) – English language education as a complimentary language to their native language.
EFL (English as a Foreign Language) – Education in English to students with different first languages (commonly used in the UK).
ELL (English Language Learner) – A non-native English student who is learning to obtain proficiency in the English language.
ELD (English Language Development) – An English program model that puts emphasis on reading, writing, listening and speaking in a classroom setting.
ELT (English Language Teacher) – English educator for students who want to learn English.
EPIK (English Program in Korea) – Korean organization for guest English language teachers in Korean schools overseen by the Korean Ministry of Education.
ESL (English as a Second Language) – An instructional program of English language proficiency to students as a secondary language.
ESOL (English for Speakers of Other Languages) – The instruction of English language to non-native speakers commonly used in New Zealand, UK, Ireland and Australia. Used synonymous with ESL and ELL.
IELTS (International English Language Testing System) – Internationally-recognized standardized test for non-native English speakers often intended to those enrolling in universities and other institutions of higher education.
IDEA Proficiency Tests (IPT) – A standardized English language proficiency test that evaluates English language ability in children.
JET (Japanese Exchange Teaching Programme) – Largest Japanese government initiative for assistant language teacher placement in Japanese elementary, middle and high schools.
LAS (Language Assessment Scales) – Assessment used for screening English language proficiency in reading, writing and oral communication (LAS-R/W/O)
LEP (Limited English Proficient) – LEP students have minimal English skills whose primary language is not English.
SDAIE (Specially Designed Academic Instruction in English) – Tailoring ELL students to understand and participate in various academic subjects like social studies, geography and science.
TESOL (Teachers of English to Speakers of Other Languages) – The international, professional organization for educators working with English learners. Commonly used in Canada.
TESL (Teaching English as a Second Language) – English teacher in home country for English learners which have a primary language other than English. Commonly used in North America
TEFL (Teaching English as a Foreign Language) – Universal term that describes teaching English to foreign students without a regulated governing body or single representative school.
TOEFL (Test of English as a Foreign Language) – Standardized test measures English speaking students that want to enroll in English universities.
TOEIC (Test of English for International Communication) – English proficiency test that measures students "everyday" English language skills in listening and reading.