This is an extremely fun way to teach compound words where they have to collect compound words through board game activity. First, put students into pairs. Next, print off the compound word game board and provide a dice for each group. After students roll the dice, they will write down the word they land on. As they continue to work through the board game, they will have to create compound words that they write down.
For example, "BLUE" matches with "PRINT" and "BERRY" to form compound words. If they land on these three words, they can earn 2 points – one for each set of compound words. And if they land on "FOOT", then they can match it with "PRINT" for another point.
In the end, they will be creating almost endless compound words. It's extremely challenging and fun for them to think of as many possibilities as they can. We've seen great success with Compound Word Game Board.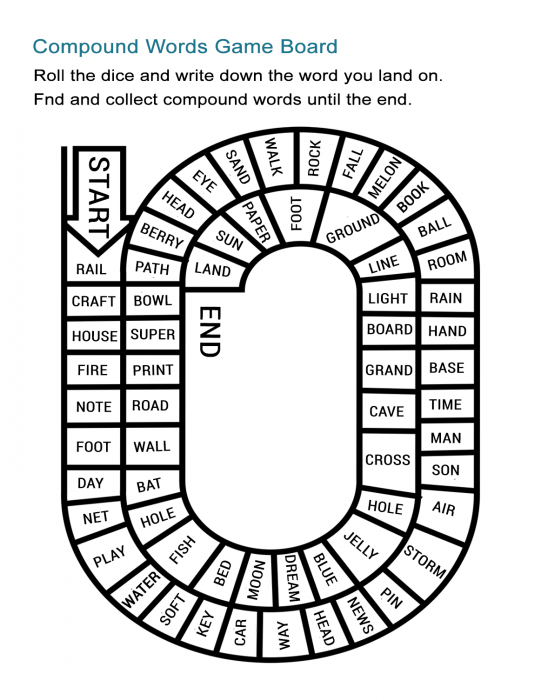 All of our worksheets are free to use for any purpose and ready to print for your classroom.
Compound Words Game Board List
Rail
Craft
House
Fire
Note
Foot
Day
Net
Play
Water
Soft
Key
Car
Way
Head
News
Pin
Storm
Air
Son
Man
Hand
Rain
Room
Ball
Book
Melon
Fall
Rock
Walk
Sand
Eye
Head
Berry
Path
Bowl
Super
Print
Road
Wall
Bat
Hole
Fish
Bed
Moon
Dream
Blue
Jelly
Hole
Cross
Cave
Grand
Board
Light
Line
Ground
Foot
Paper
Sun
Land
Time
Base