The TEFL Academy (TTA) Review: The #1 TEFL Program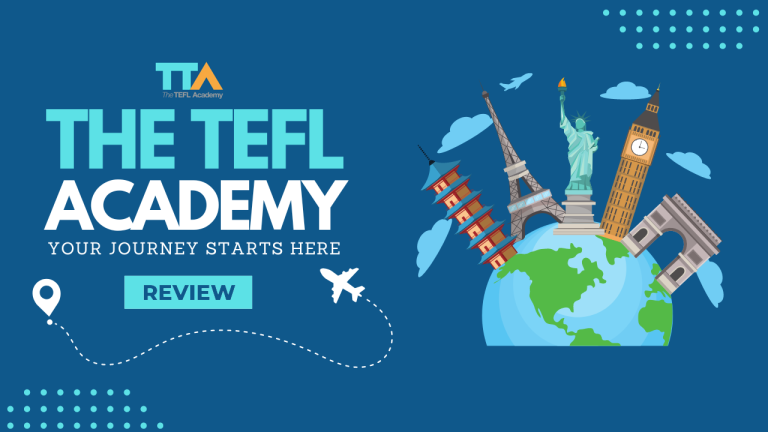 User Reviews
4.8 out of 5 stars (based on 19 reviews)
The TEFL Academy Review
Are you thinking about enrolling in the TEFL Academy (TTA) certification program? The TTA is a solid choice for TEFL certification. It's accredited, trusted, and is our #1 choice for top-rated TEFL certificate programs today.
About
Looking to start a new career but not sure where to begin? The world of teaching is filled with opportunities, but it can also be overwhelming. Finding the correct path to take can be challenging. Fortunately, you don't have to tackle the job market alone. Whether you are planning to teach abroad or online, The TEFL Academy (TTA) will support you on your journey offering the following courses.
If you want 20 hours of teaching practice, we always recommend choosing the combined option. Because some employers require prior teaching experience, this option can pay off big. But the online Level 5 TEFL course also boosts your prospects as well.
The TEFL Academy Review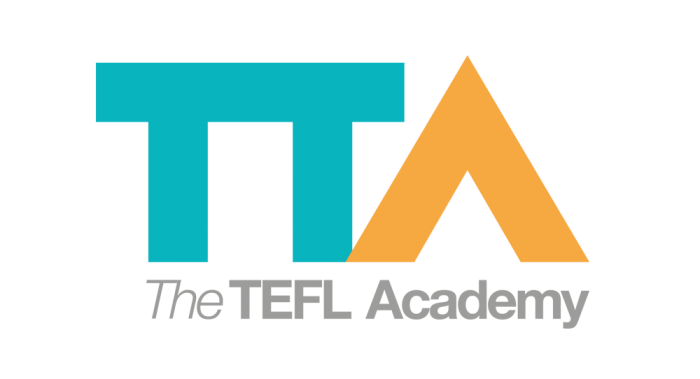 Are you thinking about enrolling in the TEFL Academy (TTA) certification program? The TTA is a solid choice for TEFL certification. It's accredited, trusted, and is our #1 choice for top-rated TEFL certificate programs today.
Earning a TEFL certificate from TTA means that it's accredited and recognized both in the UK and USA. In fact, it's the only TEFL provider that we know of that has DEAC certification. No other TEFL course is DEAC-approved and recognized by the U.S. government.
Also, the courses provided by the TEFL Academy are the equivalent to CELTA. Whether or not you're familiar with it, CELTA is like the gold standard for English teacher training. What this means for you is that you can land higher-paying jobs.
US and UK Government Recognized
No matter which course you enroll in, they both are Ofqual and DEAC-approved. In other words, the United Kingdom government and the United States Department of Education recognize this type of TEFL certification.
Currently, the two main ways to complete the TEFL Academy course are in the following courses:
Combined Level 5 TEFL Course – This program combines 168 hours of online TEFL and grammar training with 20 hours of classroom teaching practice. This is ideal to earn teaching experience and put your online work into practice in the classroom.
Online Level 5 TEFL Course – For anyone with a busy schedule, the online Level 5 TEFL course is something you can fit into your daily life. You receive tutor support and free courses for teaching online, business English, and young learners.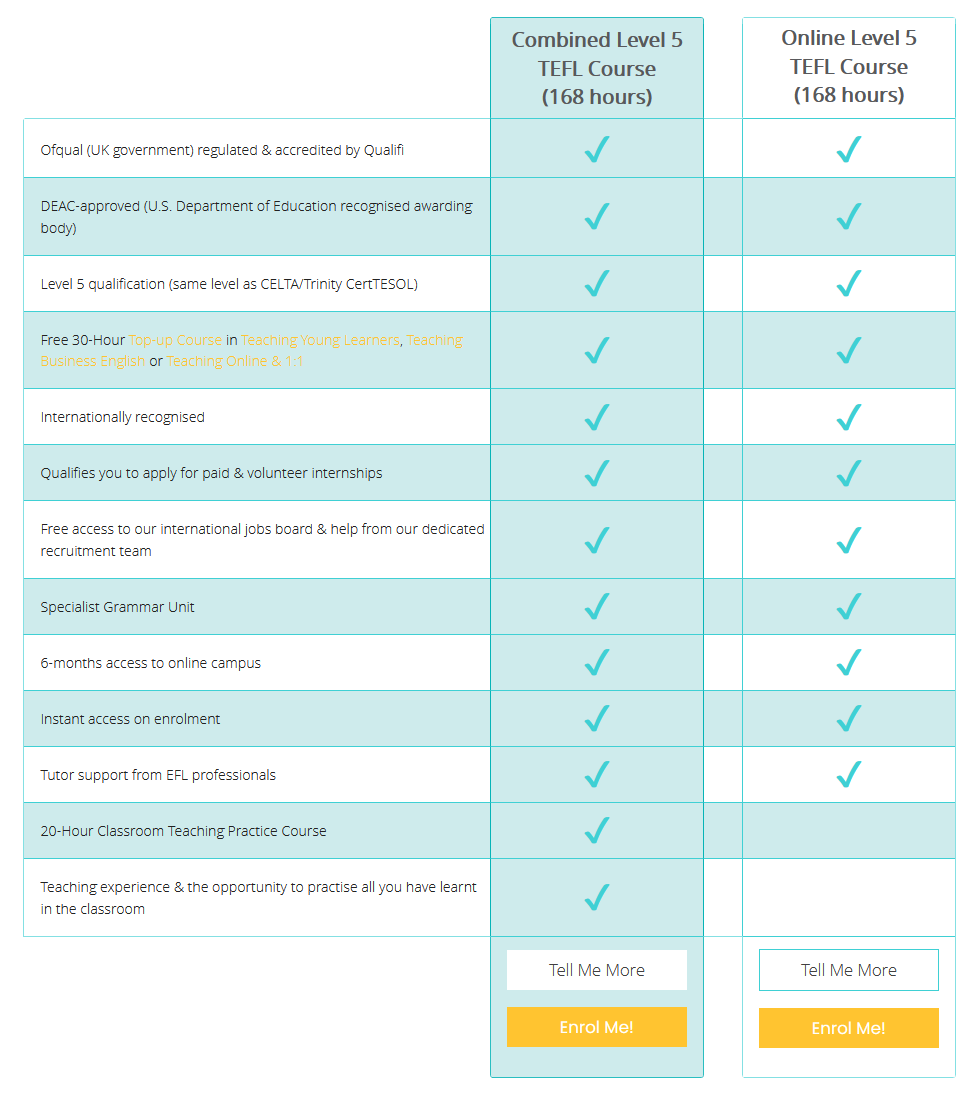 Job Placement
The TEFL Academy is also a leading source of international teaching jobs, internships, and volunteer opportunities. Their TEFL job boards have thousands of job postings from around the world. The TEFL Academy has connections with some largest recruiters in the world to make it easier for you to find a TEFL job. Throughout the course, the TEFL Academy will point you in the right direction and assist you in making job applications.
For anyone who has graduated from the TEFL Academy, there are also opportunities to volunteer in TEFL internships. You have to apply for internships and require a minimum of 120 hours of study. Some of the countries for volunteering include Argentina, China, Hong Kong, India, Japan, South Korea, Spain, Taiwan, Thailand, and Vietnam.
The TEFL Academy Review
We have the TEFL Academy ranked as the #1 TEFL course available. Graduate feedback has been positive and it has the highest review ratings of any TEFL provider. One of the most valuable parts of the TEFL Academy is the 20-hour teaching practice. This is because some employers abroad are specifically looking for in-class teaching experience before they hire you.
One of the biggest advantages of completing the TEFL Academy certification program is that it's recognized in both the UK and USA (DEAC and Ofqual). No other TEFL provider ensures this high standard as it's the ONLY certification course with this level of educational quality. The TTA's global community has over 100,000 TEFL graduates working throughout the world. The TEFL Academy is one of the highest-rated certificate programs available today and it's why we highly recommend enrolling today.
Advantages
Trusted
The TEFL Academy is the highest-rated TEFL certificate program.
Recognized
The world's only TEFL program is officially recognized in the UK and USA.
Community
Over 100,000 TEFL teachers work throughout the world.
Partnerships
Employer partnerships worldwide to help you get hired quickly.
Certified
Level 5 qualifications are equivalent to CELTA/Trinity CertTESOL.
Quality
Above 4.8 stars reviews from reviewers and past graduates.
Video
Explore the world. Teach online or abroad with the TEFL Academy.
Frequently Asked Questions
Is the TEFL Academy legitimate?
The longer answer is that the TEFL academy is not a scam and it's a legitimate source of certification. It's accredited and is both Ofqual and DEAC-approved. Overall, it's our #1 choice of TEFL certification available today.
How much does the TEFL Academy course cost?
The TEFL Academy offers a Level 5 certification course which costs anywhere in the range from $200 to $1,000 USD. Otherwise, they also provide Level 3 TEFL certification training, which is in the lower price range of $100 to $300 USD. Discounts are available and make sure to keep checking into our TEFL Academy promotions and discounts page.
Is the TEFL Academy accredited?
First, TQUK (Training Qualifications UK) certifies the TEFL Academy, which is themselves Ofqual-approved. Ofqual (Office of Qualifications and Examinations Regulation) is like the "watchdog" for regulating qualifications in England (not globally). In the grand scheme of things, it's the British Government that officially recognizes TQUK as a provider of accreditation.

Secondly, the TEFL Academy (TTA) is the only certification that meets the quality and standards set by DEAC, Distance Education Accrediting Commission. The US Department of Education National Accreditor approves the curriculum set out in TTAs Level 5 TEFL course carried out through the Approved Quality Curriculum (AQC) external review system.
Are there exams for the TEFL Academy course?
The course is graded by a mix of exams and coursework for both the Level 5 Combined and Online TEFL Courses (168 hours). You require a minimum score of 70% to pass each unit and will be awarded Pass, Merit, or Distinction upon completion.
Is the TEFL Academy (TTA) different from International TEFL Academy (ITA)?
The TEFL Academy (TTA) should not be confused with the International TEFL Academy (ITA) and they are both separate TEFL providers with different accreditation and standards.
Where are courses available at the TEFL Academy for the Combined Level 5 course?
The TEFL Academy has courses running every month in locations throughout the world. You can explore some of the course locations by using the TEFL Academy Course Location map.
Still want to learn more about TEFL certification? Read our TEFL courses guide
Write a Review
User Reviews
A path to success in the world of TEFL
The advisors are so friendly, knowledgeable, and helpful in guiding you on the path to success. I felt like the content in the course itself has helped prepare me for the classes I will be teaching. And the fact that TEFL helps you with searching for jobs in the country you want to go to is amazing!
The material is very interesting and engaging. The instructors and advisors are very helpful. I really felt that they wanted me to succeed.
Prepared and organized - but a time commitment
Definitely plan on it being like a real course – the instructors have great knowledge pertaining to the subject and you will have to spend a significant amount of time on the work per week. The TEFL Academy is incredibly prepared, organized, and immensely helpful from the start to the finish of my TEFL certification.
Great career choice
Signing up with the TEFL academy was the best career choice I ever made. The content will really set you up to be a confident and effective teacher. The coursework is not too easy and not too hard.
I feel that the required practicum hours allowed me to gain valuable live teaching experience and feel more confident when I'm helping lead my own EFL classrooms in the future.
They have your back from start to finish! I am 100% satisfied with the investment I made with the TEFL Academy.
This TEFL course is the real deal
I feel as though I have grown personally and academically. The whole experience was amazing.
Having an advisor made me feel like the course was legitimate. It made me feel like I would be paying for a real course and not just a bunch of online quizzes.
The online program fit my busy schedule
I completed the 168-hour online TEFL course and LOVED IT. As a busy working professional, it was nice to know I could work this into my schedule without any mandatory live components. It enabled me to continue working and saving for my eventual relocation to teach abroad.
ITA's course is manageable for people with busy schedules. The homework load was manageable. But it does require you to set time aside to ensure every assignment is high quality.
The bar is set high
Overall, I had a great experience. I took an online course that was very comprehensive and I feel prepared for my next steps. For my learning style, I do wish I would have opted for an in-person course, but overall I am satisfied with my experience and schooling.
If you are looking for a professional, responsive, and high-quality course in teaching English as a second language, this company has set the bar high.
It helped prepare me to teach overseas
If you're an English speaker looking to teach overseas, this course will absolutely prepare you to do a good job. The material is relevant, and clear and they provide a huge amount of resources that you can use long after the course has ended.
I definitely recommend this school if you are wanting to teach abroad. Everyone is very eager to assist, and the instructors are there to help in any way you need.
Personal counselling and well-connected TEFL program
From the moment you contact them, an admissions counselor sets up a time to meet with you and go over options. They have an amazing staff who is with you every step of the way and is always available to answer questions.
The most useful part of taking a course with TEFL Academy is that it requires students to observe an ESL or EFL classroom and student teach or tutor. This is above and beyond the other online TEFL schools, I found.
It's also a well-connected program offering assistance with job search and placement with alumni all over the world.
Rewarding experience
One of the best experiences in my life! So much fun and so rewarding. Fantastic instructor and great location of class and provided accommodation.
Become a more effective teacher overall
I wholeheartedly recommend the online TEFL certification course at The TEFL Academy for anyone wanting to not only gain the skills and insight needed for teaching ESL but also wanting to become a more effective teacher overall.