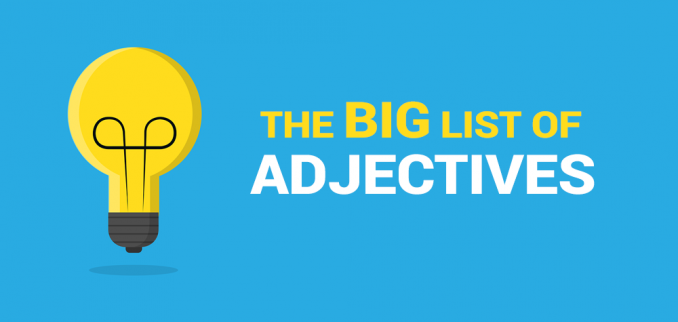 What is an Adjective?
Adjectives describe nouns or modify other words.
These words are often before a person, place or thing. But they can also be after them too.
Unlike adverbs which describe verbs, there are a lot of ways to describe nouns in English.
For example, these adjectives examples describe the color, size, shape or measurements of an object.
Adjectives that describe color, size, shape or measurements
This is a red car.
The dog is small.
Alternatively, adjectives can specify a person's nationality or what something is made of.
I like French music.
This is a wooden chair.
In other cases, they can express emotions or describe the shape or measurements of a noun.
The shy boy is there.
The knife is sharp.
Furthermore, they can also describe how many or how old someone or something is.
There are three balls.
The girl is ten years old.
Overall, adjectives characterize someone or something or expresses judgment.
The dirty truck is outside.
The song is beautiful.
List of Adjectives Examples
How many adjectives exist in the English language? It's difficult to put a number to it. But it's said there are thousands in the English language.
Adjectives that describe people
caring
sensitive
shy
happy
sad
generous
clumsy
calm
bored
anxious
annoyed
joyful

brave
angry
frustrated
curious
wild

Adjectives for resumes
confident
determined
outgoing
energetic
enthusiastic

helpful
eager
excited
empathetic
talented

brave
efficient
careful
devoted
flexible

Adjectives for food
delicious
tasty
healthy
sweet

lush
sour
tender
scrumptious

chilled
casual
outstanding

Adjectives for height, size and measurement
tall
short
round
massive
fat

small
tiny
gigantic
stout
long

immense
colossal
circular
big