Which TEFL Course Is Best? 10 Things to Consider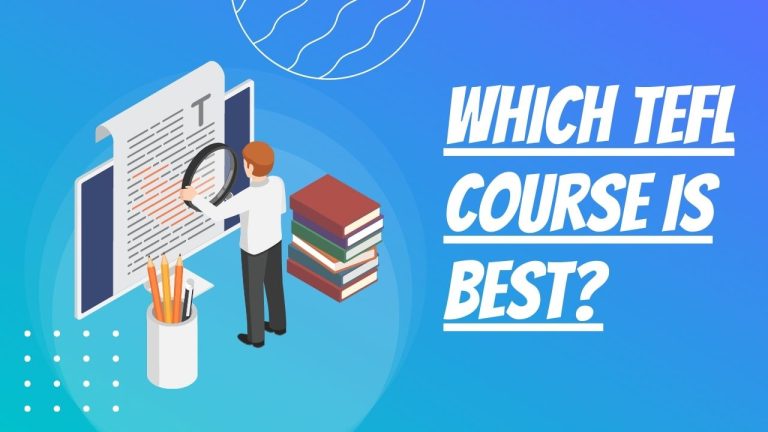 The Top TEFL Course
Sometimes, it's the smallest choices that can make the biggest impact. Without a doubt, this applies to TEFL certification. So which TEFL course is best?
Should you choose the cheapest because it doesn't matter? Or get something with real value?
Because life is a matter of choices and every choice you make makes you. If you choose a top TEFL certificate program, this helps you grow personally.
We pick The TEFL Academy (TTA) as the #1 TEFL course available today. Here's why it's at the top of a crowded list of TEFL certification programs:
Our Top 3 Picks
The Top TEFL Course
1. You Get Job Opportunities
When you finish a TEFL course, job placement is the biggest outcome. Because why sign up for a course, if it doesn't give you job opportunities?
Top TEFL providers like The TEFL Academy (TTA) provide job searches for various countries around the world. This means that it not only cares about your experience as a student, but it also cares about your experience as a teacher.
2. It's Accredited by DEAC and TQUK
Looking to enroll in a TEFL course? Check out our list of the best 15 TEFL courses
You know the quality of instruction is sound because TTA is accredited by both DEAC and TQUK. This just means they follow a set of inputs and procedures to show quality and standards.
But TQUK is at such a high level of TEFL accreditation that it's at the same educational standards in the United Kingdom. DEAC is the US Department of Education recognized awarding body.
3. Get Out and Start Networking
In the world of TEFL, it's sometimes not what you know, but more about who you know. The TEFL Academy's Facebook pages have chances to network and find job postings abroad.
You can also read stories about other teachers who are already living their dream abroad. The alumni are 100,000+ students so the networking opportunities are unique. Everyone who completes the TTA course is always part of the alumni.
4. Get Experience with a Teaching Practicum
Don't underestimate the value of a TEFL practicum. They're highly regarded by employers abroad, plus extremely valuable to get some experience under your belt.
TTA prepares you with a challenging 20-hour practicum which is above and beyond other TEFL programs. You get peer feedback which helps shape you into a professional TEFL teacher.
5. Start Building Your Resume
Not only does TEFL certification add value to your CV/resume, but the same goes for the experience you get in the classroom.
For example, the TEFL Academy has multiple Facebook groups that help you write your resume and cover letter. They have advisors to help you personally with the job search and advice for your CV/resume.
6. Gain Access to Teaching and Career Resources
Throughout your experience, the career resources are massive. The material is relevant, clear, and concise. They offer a TON of TEFL country guides on where to teach abroad.
You get quite a bit to dive into within each chapter. You can use the material long after the course has ended so you feel as prepared as possible.
7. It Keeps You Engaged
The TTA course is straightforward, professional, and engaging. The in-class experience is most rewarding.
Even if you can't attend a live session, the online course is conveniently interactive. This is the opposite of a Groupon TEFL course that doesn't engage you. They also give you 10 hours of work and call it 120 hours.
8. Staff are Knowledgeable
Advisors help decide which course is best for you. Whether it's in a public/private classroom, online, or at an international school, the staff are experienced, well-trained professionals.
Between the classwork each week and teaching practice in different classroom environments, graduates can finally feel confident to pursue their teaching careers.
9. Become a Lesson Planning Wizard
Check out our 100+ free ESL worksheets to use in your online classes today
A solid ESL lesson plan is the backbone of any successful English language teacher. You can either get the bare minimum out of it or try to absorb the readings and create lesson plans/activities that you plan to use in the future.
It's just like taking a university course with assignments due weekly, lesson planning projects, and quizzes.
10. Get What You Pay For
The TEFL Academy gives you real value for what you pay for. You don't have to pay thousands of dollars for a TEFL certification like what the International TEFL Academy asks for.
Instead, pay for the best value, which at the moment is the TEFL Academy. It's regarded as one of the highest-rated TEFL providers by both GoOverseas and GoAbroad.
Which TEFL Course Is Best?
If you're on the fence about choosing a TEFL course, the TEFL Academy is it. You get good value for what you pay for like job support and a teacher practicum.
Just see how the TEFL Academy compares to the International TEFL Academy.
We have it #1 in a crowded list of TEFL certification programs. Sign up today and start teaching abroad today.