Where can you teach English abroad?
We examine the best countries (ESL locations) to teach English around the world.
Also, what are the ESL hotspots? (And we're not referring to temperature.)
Where are they hiring ESL teachers? Where are English teachers going? And how much money can they make?
First, each country also makes it's own rules and guidelines as to who can teach there.
Because the pay and situation varies by country, so do the requirements.
For example, while Dubai is very strict about teaching requirements, parts of Peru doesn't require TEFL certificate at the very least.
As a result, the pay scale differs substantially.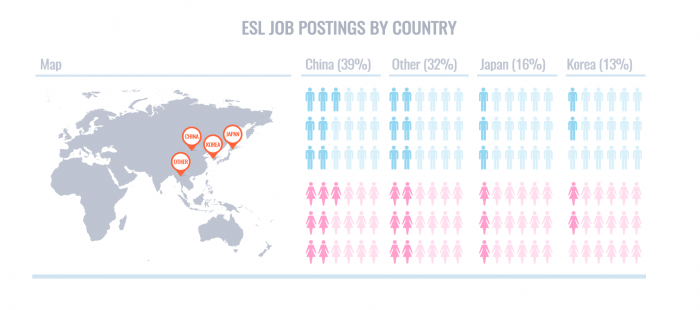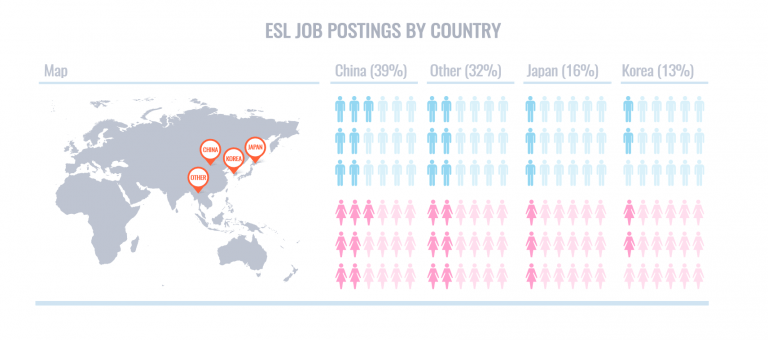 1

China

China is in the top​ spot of all ESL locations. And it's a no-brainer if you think about it. Not only is China the most populated country in the world, but it is one of the fastest emerging economies. This combo makes it the hottest of all ESL locations accounting for 39% of ESL jobs.

ESL job growth in China is unprecedented. But it's not only the fact that a high number of ESL jobs exist, ESL teachers are embracing higher pay and more benefits. The average salary in China is 12,000 RMB.

Often schools offer you severance pay, free accommodation and flights. That's a bit of extra incentive to take the dive and teach English in China.
2

Japan

Japan has always been a popular destination to teach English abroad. It's undeniably interesting country with the perfect mix of traditional and modern beliefs.

Compared to the rest of the world, ESL job growth is slowing as Japan takes a backseat to China and other emerging countries. 16% of ESL jobs originate in Japan, and this is still quite a big piece of the pie.

You have a lot of ways to teach English in Japan like the JET Programme or an Eikaiwa. The average salary is excellent at about 263,000 JPY (2400 USD) but the cost of living is high.
3

South Korea

At a young age, get the right education they need in public schools and at private academies. This growth in after-school education plays a big part in the disproportional ESL jobs.

Despite it's small relative size in population, ESL education is booming in South Korea. 13% of international ESL jobs are based in South Korea. This speaks volumes for the incredible work ethic Koreans have.

If you want to teach English in Korea, the average salary of an ESL teacher is about 2,254,000 KRW (2000 USD). Overall, it's one of the best ESL locations for teacher benefits and saving money.
4

Thailand

Thailand is a fun place to travel. Maybe a bit too fun (think Hangover 2). It's gotta be one of the most popular countries for backpackers​ around the world.

Thailand has always been a steady ESL location. Currently, it accounts for any 2.7% of international ESL jobs.

The average salary for ESL teachers in Thailand is about 31,350 THB, which is less than 1000 USD. All in all, teaching English in Thailand won't make you rich. But the cost to live there is much cheaper.
5

Vietnam

Vietnam has a very high demand for ESL teachers at this time. If you are just starting out, it's somewhere you can earn the experience you need.

On average, ESL teachers earn about 36,400,000 VND (1600 USD). As Vietnam is new to the ESL scene, some schools are short on the necessary ESL teaching material. Don't forget about these free ESL worksheets and ESL games to help kick start your classes.
6

Saudi Arabia

Saudi Arabia is difficult for some ESL teachers to absorb. For example, cinemas hardly or don't exist at all. And as a Muslim country, Saudi Arabia has no alcohol.

But in terms of salary, Saudi Arabia pays big if you're an ESL teacher. ESL teacher salaries range extraordinarily from 1700 to 3600 USD. Overall, the benefits are great and the country has a lot of character to it.
7

Indonesia

Indonesia is the fourth most populated country in the world at 258 million people. But it's still a developing country and has a lot of potential for future ESL growth.

The average salary is 13,125,000 IDR which is less than 1000 USD. But most people come to Indonesia for its rich culture and its tropical islands interlaced along the equator.
8

Hong Kong

Hong Kong comprises of 1.5% of ESL job postings internationally. Similar to China, ESL is booming in Hong Kong but the population is still quite small at just over 7 million people.

We found Hong Kong to be the highest money-making ESL location. ESL teachers can earn about 24,400 HKD, 3140 USD on average per month. That's a good chunk of change. It's also one of those places that adore ESL certification like TEFL, CELTA and TESOL certification.
9

Taiwan

All thing considered, Taiwan is a decent place to teach English. Although it's a bit exotic from other ESL locations, people are easygoing and welcoming to foreign teachers.

Even though the job market is a bit tight here to find a job, it makes about 1.3% of ESL jobs. You can make about 61,100 TWD (2000 USD) in salary. But it's less common to get all the perks like free housing, airfare. That means you need a bit of startup money.
10

Russia

Russia is a cold place to teach English. Imagine teaching in Siberia, the coldest place on Earth? But it continues to gain traction in English language learning.

Overall, it makes up about 0.9% of the international ESL job market. While the average salary is about 60,400 RUB (1000 USD) per year, the cost of living is inexpensive. For example, apartments, food and transportation costs are some of the most reasonable on the world.
Runners-Up: Mexico, Peru, Spain, Oman, Malaysia
ESL Locations: Where Do You Want To Go?
These are the top 10 ESL locations hot spots which offer an abundance of jobs and high post. In other words, here's where ESL teachers are flocking to.
Where should you teach English abroad as a career?
Do you want to live somewhere tropical? Where do you want to travel to? How much can you make teaching English? Is it easy to find a job compared to other ESL locations?
We hope you've found answers to the questions here. But hit us back with a comment below.